April 14, 2018
William Edward "Bill" Hailey
September 30, 1922 - April 8, 2018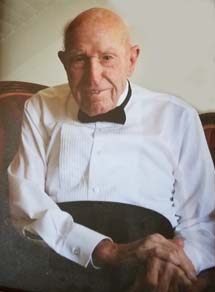 Texas Association of Builders Hall of Honor Dinner for Cousin E.J. Burke Jr. 2014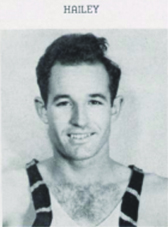 Baylor Basketball Captain
SWC Champions 1946
William Edward "Bill" Hailey – a longtime local attorney, war veteran and former college basketball star - was a quintessential product of an American era that's been described as the greatest generation.
Hailey, who moved to San Antonio to open his first law practice in the early 1950s, died Monday in the city that he loved and called home for almost seven decades. He was 95.
Bill was born and raised in Houston as the son of William Henry and Katherine Hailey. He attended San Jacinto High School where he was an all-city basketball player and a starting running back on the football team as well. Bill had learned the importance of overcoming challenge in the face of adversity when his family had been forced to relocate to a poorer neighborhood during the Great Depression when he was a child. He had a passion for life, a strong and unwavering religious faith and a steadfast belief that everyone should be treated with an equal amount of kindness, compassion and respect. Bill lived his life by the Golden Rule – and he had a penchant for bringing out the best in the people whose lives he touched and made happier in a multitude of ways.
Bill was a loving husband, devoted father and loyal friend who led by example. He was a world-class competitor and survivor as well – having been the last living member of a World War II bomber jet crew that had the first of many annual reunions in the 1980s. Bill had been in the midst of his junior year in college when he enlisted in the military immediately after the attack on Pearl Harbor at the age of 19. He rose quickly through the ranks of the U.S. Army Air Corps as a commissioned officer and pilot who flew 26 missions in the European theater in a B-24 bomber from an air base near London where he was stationed. More than 26,000 fellow Eighth Air Force members died in the war – and Bill lived the rest of his life as though he'd been dedicating it to the Americans who fought in the war and never returned home to tell about it. Bill had accepted God as his savior at the age of six – and he considered life to be a gift that he would always treasure and never take for granted.
Bill had decided to attend Baylor University at the advice of his father after receiving athletic scholarship offers from several major institutions of higher education in Texas and the southeast. He led the Bears to the Southwest Conference championship in 1946 as the captain of a team that featured three war veterans and two freshmen in the starting lineup. Bill was named to several all-SWC conference teams that year. The league crown that Baylor claimed in Bill's senior year was the first of four conference titles for the Bears during a five-year period that included an appearance in the national championship game in 1948. Bill remained close friends until he died with college teammate Jack Robinson – an all-American and Olympic gold medal winner who served for many years as the preacher at the First Baptist Church in Augusta, Georgia.
Baylor's legendary basketball coach "Mister Bill" Henderson persuaded Bill to coach the freshman team during his first year in law school. Henderson encouraged the law student to remain in coaching as the coach's assistant before Bill decided to focus full-time on his studies.
Bill entered the legal profession as an attorney in Amarillo where he met a church pianist named Eleanor Mansfield. Bill and Eleanor fell in love and were married in 1951 before they relocated to her hometown of San Antonio where she'd attended Jefferson High School. Eleanor had graduated from Baylor as well before Bill had introduced himself to her in the Panhandle. Eleanor gave birth to their first son Michael in 1952 before Joel was born three years later. Bill and Eleanor were wonderful parents whose love was always rich and unconditional.
Bill married one of their oldest friends – Ann Wharton - after Eleanor died in 2001. Ann was an extremely devoted and loving wife for the final 16 years of Bill's life. Ann made it possible for Bill to remain in an independent living setting by taking care of him day and night as he grew older and more dependent on others during the past several years. Ann was more than just a wife. She was Bill's best friend as well. Many people had been proud to have Bill as one of their closest friends including those whose paths had crossed at Trinity Baptist Church where Bill was elected deacon in 1959 and where he had been a member for 60 years up until the time he died. Eleanor had been the pianist at Trinity for several decades – and Ann and her late husband Jim had been two of Bill and Eleanor's closest friends since the couples' early days at Trinity Baptist. Bill's two sons knew that their mother would have been glad that he and Ann would be so happy together after Eleanor's death.
One of Bill's best friends had been the legendary pastor Buckner Fanning, who had become the minister at Trinity shortly after the Haileys had joined the church. One of Bill's favorite memories had been the time that he and Buckner and another Baptist preacher who'd been a good friend played a round of golf at Pecan Valley with Billy Graham in 1968 when he'd been in San Antonio for a revival that summer. A recent San Antonio Express-News article on Buckner described how Billy Graham had declared at the time that Bill had been the best putter whom he had ever seen.
Bill had gone to work in the 1950s as the lawyer for a family business that his uncle had founded and his cousin E.J. "Jimmy" Burke was running at the time. Bill fondly recalled during his final years the meetings that he and Jimmy often attended in downtown San Antonio as members of John Connally's local advisory committee when he was still the Texas governor. Bill became a Democrat after he returned from the war and was proud of his party affiliation despite the fact that many of his friends had been Republicans.
Bill was a true believer in equality and equal opportunity – and after going into the homebuilding business with his father in the 1960s – he sold the first home to a black person in the area in the southeast part of the city that they had developed. That home buyer was Clarence "Cito" Gaston – a San Antonio native who'd been an all-star major league baseball player before leading the Toronto Blue Jays to two World Series championships as the first African-American to ever lead a team to a title.
Bill eventually returned to his original profession on a full-time basis -and he and his beloved son Joel shared a law office for many years before Bill retired in his early 80s. He was equally proud of Michael as an award-winning political writer who served as an advisor to Bob Bullock in the Texas lieutenant governor's office before returning to journalism eventually. In 2013 the Texas Senate honored Bill in a resolution for his 90th birthday.
Bill is survived by his wife Ann; his sons Michael and Joel; his step-children Thomas Wharton (wife Diane), Laurie Nowak, Susan Gay (husband Eric), and six step-grandchildren.
Bill Hailey's son Michael Hailey is the editor and publisher of Capitol Inside