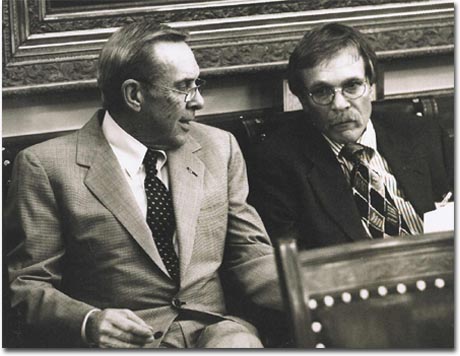 Lt. Gov. Bob Bullock and Press Secretary Mike Hailey - Texas Senate Photo 1997
INSIDE INFORMATION
Capitol Inside Brings Unique and Entertaining
Perspective to Texas Politics and Government

Information is power - and that's what Capitol Inside is all about. Power. Capitol Inside is an ideal source of news and information about Texans who run government and what they are doing to lead. Capitol Inside has received national acclaim in Campaigns & Elections magazine as a publication that's "breaking news ahead of the pack" in one of the nation's most competitive environments for political news. That was after our first year in business. As an encore to that we decided to do even better.
Capitol Inside - as a result - has become the go-to source of political news in Texas for people who want the real story and what it all means. We take our readers between the lines with coverage that's unique, entertaining and more analytical than any reporting you will find on the Texas political scene. Capitol Inside is updated daily with a refreshing blend of hard news reports and analyses, special features and breaking news bulletins on our scrolling news ticker.
The web site is non-partisan - with a rapidly-growing subscriber base that includes members of the Legislature and Congress, statewide elected leaders, lobbyists, state and local agency officials, political consultants, state and national party leaders, journalists, professional associations, law firms, corporate offices, activists and others who want to gain the competitive advantage that's needed to succeed.
Mike Hailey
Editor & Publisher
Mike Hailey is an award-winning writer and editor who has been in and around Texas government and politics for more than 20 years. Hailey earned a reputation as one of the leading journalists in the state while covering the Texas Capitol for the Austin American-Statesman and The Houston Post. He joined the Capitol press corps in early 1984 in time to cover the summer special session that produced the historic public education reforms in House Bill 72. Hailey's first experience on the statewide campaign trail came later that year when he was assigned to travel with Democrat Lloyd Doggett in his race for the U.S. Senate against Republican Phil Gramm. The Austin newspaper turned to Hailey to cover the state budget crisis that led to a record tax bill in 1987 - and by 1990 he was in the thick of the wildest governor's race ever while traveling first with Ann Richards and then with Clayton Williams until they crossed the finish line.
Hailey crossed the line to the "dark side" when Bob Bullock summoned him back to be his press secretary in the lieutenant governor's office in the wake of the Post's sudden demise one day in 1995. Hailey was on board for the last three years of Bullock's legendary career and his final regular session, which revolved on then-Governor George W. Bush's push for property tax reform.
Hailey spent the next three years at the Texas Democratic Party, rebuilding the communications office from the ashes with a successful plan aimed at revitalizing the state party's image and boosting its visibility across the state and the nation. He designed an elections media strategy that put the so-called Dream Ticket in position to gain national acclaim before falling victim to Rick Perry and the Republicans in 2002.
Two months after that election, Hailey rolled the dice on a creative vision and created Capitol Inside, which made its debut online in January 2003. He declared from the outset that the newsletter would be a non-partisan source of news and information that would be fun to read and explore and valuable to insiders as a professional resource and tool. The venture exceeded all expectations from the start - and now Hailey's proud to say that the subscriber base mirrors the percentages that Republicans and Democrats have in the Texas Legislature and the state's delegation to Congress as well.