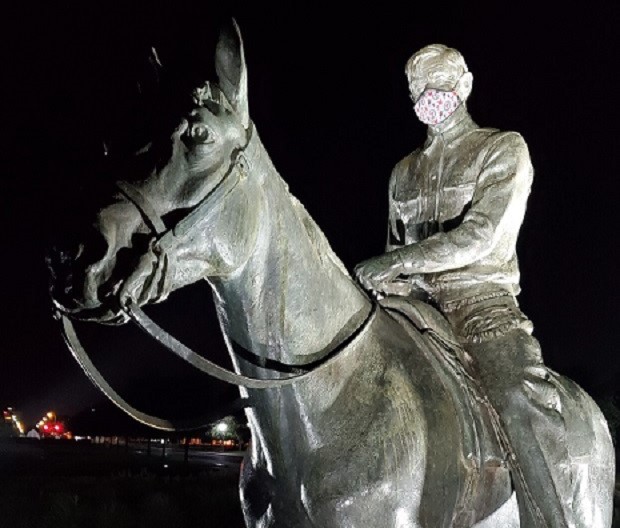 Texas Power Conference Schools on Fragile Field
with Football Set to Go Despite Campus Outbreaks
By Mike Hailey
Capitol Inside Editor
September 5, 2020
Texas Tech University had a second masked rider with the iconic Will Rogers statue decked in a speckled pink mask and perched atop trusty steed Soapsuds while standing guard on an abandoned campus on a hot August night just three weeks ago.
But quite a few students must have missed the visual memo based on record coronavirus spiking this week in Lubbock County where the disease had appeared to be fizzling before the students bounced back into town and started a whole new spread.
With the Lubbock testing positivity rate vaulting beyond 10 percent heading into the Labor Day weekend, the Red Raiders are holding their breaths with the football season home opener set for next Saturday in a bout with the Houston Baptist Huskies if it doesn't get postponed due to COVID-19. But Houston Baptist would have more to lose with TTU as one of only three games that it has scheduled at this point including one that it lost on Saturday to the University of North Texas.
The rate of new COVID-19 infections had been falling in Brazos County for almost two months as well after Governor Greg Abbott imposed a statewide mask order in early July. But the virus has surged since classes resumed at Texas A&M University about two weeks ago - hitting the second highest point of the entire pandemic in Brazos County on Saturday with 125 new cases reported there by the state. Lubbock County reached an all-time high mark on Friday with 308 new cases - the peak of a four-day surge that added 1,121 confirmed infections to the cumulative count there.
The private schools Baylor and TCU have had the highest rates of infections among the five Texas universities that will be fielding football teams in major conferences this fall. BU and TCU have recorded 846 and 693 cases respectively since August 1. Texas A&M has turned up 927 cases in the same span of time - fueling a third surge in Brazos County that already rivals the second that plowed through in June. Texas Tech has 490 active cases - a number that represents the count of new cases in the past two weeks.
The University of Texas had a record spike this week at the flagship campus with 52 new infections recorded in a single day. But UT Austin has only logged 190 coronavirus cases among students and staff since the first of August after going for a month with a minimal amount.
Baylor's relatively high rate is due in significant part to a more aggressive testing effort that required incoming students to have a negative COVID-19 test before they can return. The size of the virus infection increases at the private school in Waco have been shrinking throughout the past week.
Baylor is opening the season at home next Saturday against Louisiana Tech as the Bears' only non-conference game in 2020. Texas is set to do battle with the UTEP that day. After having the opener with SMU next weekend postponed after a covid outbreak on campus, TCU will be having to wait until September 26 before getting the season under way in a clash in Fort Worth with Iowa State. The Texas Aggies have their first game of the pandemic set for two weeks from now as well when they host Vanderbilt in College Station as long as the virus cooperates. Texas A&M will not be playing anyone outside the SEC this fall.
But college football will be touch and go from start to finish in 2020 when only three of the five power conferences are currently planning to play. The five Texas schools in major conferences are limiting the capacity at stadiums to 25 percent during the first few weeks of the season at least. Abbott had ruled in early June that professional and college football could operate this fall at 50 percent capacity - and he never felt compelled to lower the threshold after the Texas power conference schools cut that in half on their own.