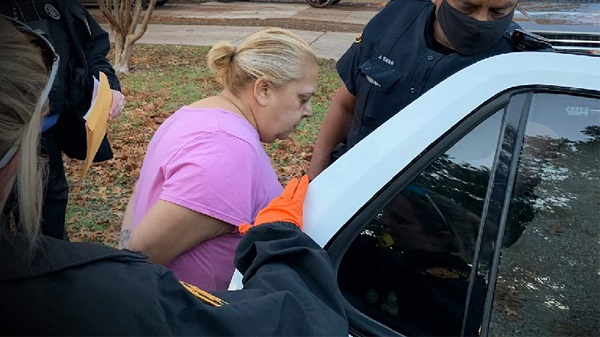 Texas AG Ken Paxton says probe into ballot box persuasion tactics leads to senior Hispanic female's arrest in Alamo City arrest and confirms that President Donald Trump claims of massive voter fraud in failed lawsuits were true after all. KSAT photo
Paxton Trumpets Elderly Texas Woman's Arrest
after AG's Role in Rally that Fueled Insurrection
Mike Hailey
Capitol Inside
January 13, 2021
Texas Attorney Ken Paxton may have a shot at a $25,000 bounty payment from President Donald Trump's state campaign chairman after announcing on Wednesday that he might have discovered a possible example of voter fraud with a San Antonio woman who allegedly tried to show another senior citizen how to change her vote before casting her ballot last fall.
The Republican state lawyer said that Rachel Rodriguez, whose name actually appears to be Raquel, has been charged with illegal voting, election fraud, unlawful ballot possession and assisting people who voted by mail. San Antonio police confirmed that they'd arrested Rodriguez at Paxton's request for assistance in her apprehension and transport to an undisclosed location.
Paxton said that Rodriguez could face up to 20 years in prison if convicted on the long list of criminal offenses that he's accused her of committing. That's the same sum of time that Paxton could be forced to spend behind bars if charged and convicted of sedition as a consequence of their roles in the riot that killed five people a week ago in Washington D.C.
Paxton was photographed at the scene of the crime where he tried to fire up fellow Trump loyalists at the rally that triggered the insurrection that Democrats and Republicans in Congress have formally accused the president of inciting. A tea party champion who's under indictment for felony securities fraud while facing accusations of bribery in a separate scandal, Paxton has contended that leftist Antifa militants had been chiefly responsible for the riot at the nation's Capitol - a claim that the FBI has dismissed as fiction.
But Paxton suggested today that his own probe that culminated in the apprehension of his elderly constituent in the Alamo City has effectively confirmed that President-elect Joe Biden and Democrats did indeed steal the White House from Trump after all.
"Many continue to claim that there's no such thing as election fraud," Paxton said in a statement on Wednesday. "We've always known that such a claim is false and misleading, and today we have additional hard evidence. This is a victory for election integrity and a strong signal that anyone who attempts to defraud the people of Texas, deprive them of their vote, or undermine the integrity of elections will be brought to justice."
Paxton didn't reveal whether he suspects his elderly Hispanic constituent who he's charged with high crimes might have been a mastermind or major supporting player in the worldwide conspiracy that Trump lawyers have portrayed in a fusillade of failed lawsuits in the bid to overturn the democratic American election without evidence.
Paxton, who's appeared to be testing the waters for a potential governor's campaign next year, sought without success last month to have the U.S. Supreme Court throw out votes in four major battleground states that Biden won.
But Paxton might have finally found the smoking gun for Trump with the ballot box persuasion case that he claims to have uncovered with a critical assist from the right-wing group Project Veritas that he says has the alleged crime on video.
While Paxton's new voter fraud case will be too little too late as far as invalidating the general election is concern, a conviction of Raquel or Rachel Rodriguez could put the attorney general in position to make a claim on a five-digit cash payout from the voter reward fund that Lieutenant Governor Dan Patrick created in November with funds that he raised from contributors.