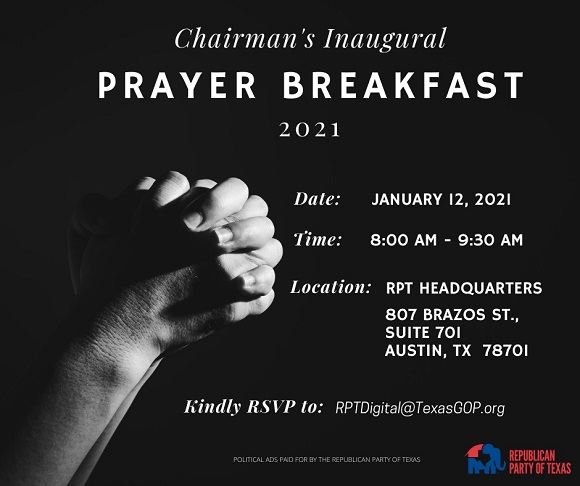 Republican Lawmakers Heading to Austin
in Shameful Shadow of GOP Base Rioting
Mike Hailey
Capitol Inside
January 7, 2021
Texas Republican Party leader Allen West probably should expect the lion's share of GOP state lawmakers to be no shows next week at a Chairman's Inaugural Prayer Breakfast that he's sponsoring next week on opening day of the regular session. No Republican in their right mind would want to be caught dead at a party event in the aftermath of the attack by the new GOP grassoorts base on the nation's Capitol on Wednesday.
The timing of the foiled coup couldn't be worse for GOP leaders and lawyers who'll be flocking to Austin in the next few days in a state of shame and embarrassment as silent accomplices in most cases in President Donald Trump's epic assault on democracy.
Let's be honest - the Republicans who control the Texas House and Senate will be converging on the state Capitol five days from now as members of a political party that Trump and enablers like U.S. Senator Ted Cruz and Attorney General Ken Paxton have turned into a national disgrace.
Texans on both sides of the aisle had ample cause to be concerned before the Trump mob rioting in Washington D.C. about the Legislature's ability to do tackle the coronavirus crisis that's befuddled Governor Greg Abbott and the ruling Republicans.
After accomplishing nothing in 2020 beyond break-even legislative and congressional elections here, the Republicans will have to come out of hiding if they hope to have a fighting chance in the face of the most imposing challenges that the state has ever faced in a session that will revolve around the pandemic. Abbott and the Republicans will find their work complicated even more against a backdrop of growing calls for Trump's removal under the 25th Amendment to prevent any further damage to America on his watch.
The closest thing to a redeeming value that the Trump Republican Party in the fallout from the mob's unleashing is the fact that GOP congressional leaders finally put a halt to the insanity that's wrecked their party when Democratic President-elect Joe Biden's victory last fall was certified last night.
The state Republican lawmakers who are good people with records of effectiveness have to be monumentally ashamed of their party and the snakes in their midst. It will come as no major surprise if there's a massive exodus of Republicans from a party that hit an all-time low this week and could be on rock bottom for years to come.
Cruz probably can forget about being the president at some point in his life as a leading lieutenant in Trump's bid to overthrow the federal government. Cruz had bragged about having a dozen Senate votes against the slates of electors from battleground states that Trump falsely claims that he won. Cruz, who has degrees from Harvard and Princeton, might need a refresher course in math after he turned out to be one of only seven Senate renegades who effectively voted Wednesday night to undermine an election that was clear and fair by every legitimate standard.
Paxton's visions for a presidential pardon could be going up in the smoke of the ashes from the domestic terrorism to which he contributed significantly with a pep talk at Trump mob rally in Washington D.C. shortly before the violence erupted there. Paxton is facing felony charges of securities fraud and accusations of bribery that more than a half-dozen former top deputies have leveled against him in a move that's spawned an FBI investigation.
"What we have in President Trump is a fighter. And I think that's why we're all here," Paxton said with wife State Senator Angela Paxton by his side. "We will not quit fighting. We're Texans, we're Americans, and the fight will go on."
But Paxton the AG sought to save some face last night with bogus claims about Antifa radicals being responsible for the violence while the Trump supporters protested peacefully. Paxton may be quietly hoping now that he and Trump aren't both indicted for inciting a riot.
For the sake of full disclosure, neither Paxton or Cruz were born in Texas. Lieutenant Governor Dan Patrick - the state campaign for Trump in Texas - is a Maryland native while Cruz and Paxton entered the world in Canada and North Dakota respectively. Cruz is the only one of the Trump Texas triad who actually lived in the Lone Star State before he became an adult.
West, who's led the GOP in Texas for the past seven months, moved here about five years ago and has shown no signs of having a real clue about his latest home state. West has appeared to be a true believer in Trump while peddling the same fantasy conspiracies about Antifa, socialist mobsters and stolen elections.
But West sounded like a different person on Wednesday when the state GOP announced that the sergeant at arms who the chairman had appointed - Walter West II - had been stripped of the partisan leadership post after promoting the Trump-fueled terrorism in the District of Columbia.
After warning for months of a brewing potential clash between God-fearing Republicans and demonic socialists in the Antifa and Black Lives Matter movements, West's state party announced that it opposed the violence that had prompted the lockdown of the U.S. Capitol for several hours.