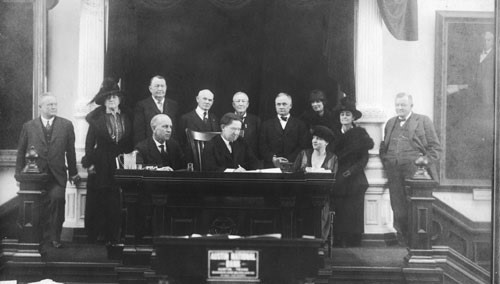 Governor William P. Hobby signs suffrage bill February 5, 1919. Photo Briscoe Center for American History
Texas Legislature Could Take Page from 1919
with Restart on Power Grid from Ground Up
Mike Hailey
Capitol Inside
February 16, 2021
Texas lawmakers had no time to waste in the wake of the Spanish Flu's brutal second wave when they voted in the first two weeks of the 1919 regular session for a proposal that would give women the ability to vote here for the first time.
The 36th Legislature set the foundation for state government today. State legislators - meeting over 100 days in seven months - overhauled school funding, reigned in and reformed the Teas Rangers, shifted oil and gas regulation to the Texas Railroad Commission and created the templates for the Texas Facilities Commission and the State Preservation Board.
The Texas Oil and Gas Association and the League of Women Voters were conceived as spinoffs of the landmark achievements that lawmakers recorded over a span of 100 days in 1919. The Legislature had 171 Democrats in the House and Senate, one Republican representative and no women in either chamber. But Texas would have four female state legislators by the mid-1920s as a consequence of a vote in a 1919 summer special session to make Texas the first state in the south to ratify the 19th Amendment.
The current version of the Texas Legislature hasn't appeared to be cut from the same big thinking cloth - having phoned in sick for most of the first five weeks of regular session this year with the coronavirus as an incentive to stay away from the Capital City.
Lawmakers hadn't found five special emergencies that Governor Greg Abbott declared on February 1 to be urgent enough to require their immediate attention. That won't be the case with the sixth Abbott emergency that's an actual crisis with the breakdown of the state power grid during the worst winter storm here in decades. Millions of Texans had no heat in their homes all day Tuesday including many whose residences went dark on Sunday night.
Abbott has called for an investigation into the Electric Reliability Council of Texas that's called ERCOT to determine how and why the power system failed its most important test. What the governor's probe will probably find is that ERCOT had no chance against the deep freeze because it's obsolete and unprepared for new challenges in a state where the ruling Republicans are in denial about climate change.
Abbott and the GOP majorities in the state House and Senate can pass a package of ERCOT legislation in the regular session, claim victory and hope for the best. But they'll simply be putting off the inevitable if they don't junk the current power system and reconstruct it from scratch to last in the modern world.
That might be not be possible, however, because it would probably trigger the worst possible crisis of all in the eyes of some Republicans - higher state taxes.
more to come ...