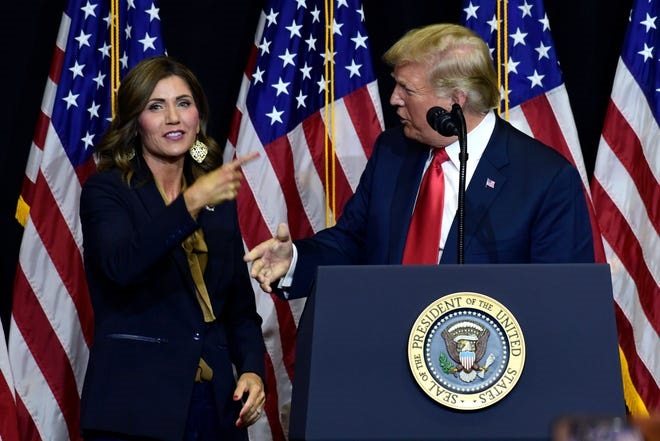 South Dakota Governor Kristi Noem appears with Donald Trump in 2018 when he was president. Sioux Falls Journal Photo
GOP Governor Who Gave Trump Rushmore Bust
Plans Texas Swing in South Dakota New Term Bid
Mike Hailey
Capitol Inside
February 13, 2021
South Dakota Kristi Noem plans to pass the hat in the Central Texas hamlet of Cameron this month for a re-election race that she won't have an adoring president to ride in 2022 when her close association with Donald Trump and the GOP could be a liability.
Noem is set to appear at a fundraiser on February 26 that local rancher Bob McCLaren is hosting at his black Angus ranching empire known as 44 Farms. The list of co-sponsors include major Trump donors from the Dallas area like billionaire investor Doug Deason and Gentry Beach, a money manager who's been involved in controversial dealings with Donald Trump Jr.
Orlando Salazar, the national vice-president of the Republican National Hispanic Assembly, appears on the host committee for the Noem event that could be a sign of higher aspirations despite a decision to forego a U.S. Senate bid that she'd considered before taking aim at another term.
Noem will use the cash from the Lone Star State in a campaign for a second term in South Dakota where she beat a Democrat in 2018 by slightly more than 3 percentage points two years before Trump scored almost 62 percent there last fall. Noem could need the outside help after angering voters in her home state this week when a judge who she'd appointed ruled at her request that a proposition that had been approved in a statewide vote violated the state constitution.
Noem has been one of Trump's closest allies - refusing to acknowledge his responsibility in the riot at the U.S. Capitol or the blatant lies on which his election challenge was based as the fuel for the insurrection that he's on trial in the U.S. Senate for inciting at a rally that had been the launching pad for the mob.
Noem gave Trump visions of grandeur last summer when she spent $1,100 on a four-foot bust that she presented to him last summer at a speech at Mount Rushmore on the night before July 4th when she heaped gushers of praise on him in an introduction speech. Trump had campaigned for Noem when she was running for governor in 2018 as a U.S. representative who'd served in the South Dakota state House.
Noem appeared to model her response to the coronavirus response after Trump more than any other governor - refusing to take the contagion seriously or to impose a mask order as South Dakota sizzled during the fall as the state with the second highest rate of COVID-19 cases since March behind North Dakota. South Dakota ranks seventh in the total number of covid fatalities per capita since the virus surfaced almost a year ago.
Noem promoted large gatherings without masks or social distancing - and she questioned the effectiveness of face covering while ignoring basic science - following Trump's lead at every turn. Noem refused to require Trump supporters to wear masks at the Rushmore event where he announced the initial funding for the creation of a new national park that would be a garden showcase for statues of his favorite American heroes. Noem said she had the replica in Trump's honor made because she knew that his dream had been to be sculpted into the national monument alongside George Washington, Thomas Jefferson, Abraham Lincoln and Theodore Roosevelt.
Trump demonstrated his appreciation for Noem's admiration when he cast her in a primetime speaking part at the Republican National Convention. Noem's had been largely unknown outside of the Dakotas until the speech at the RNC sent her star soaring three months before hitting a wall with Democratic President Joe Biden's election in November. Noem parroted Trump's false claims for several days about the election being stolen before acknowledging a month after the vote that Biden had won.
Noem, a rancher whose family owns a hunting lodge, claimed that Trump shouldn't be held criminally responsible for the mob assault without attempting to assess any blame for the uprising that killed five at the nation's Capitol on January 6 when Congress was in the process of certifying the 2020 election results.
The upcoming fundraising reception for Noem in Texas could be a sign of higher aspirations as a potential heir apparent of Trump's support on the hard right. Noem had weighed a possible challenge to Republican U.S. Senator John Thune after he criticized Trump's attempts to undermine the Electoral College vote.
Noem could find herself across the ring from Nikki Haley - a former South Carolina governor who'd been a major Trump ally as well before turning against him this week in an apparent warm-up for a presidential bid in 2024 when the fallen leader could be her chief rival.
Haley, who served as United Nations ambassador during Trump's first two years in the White House, portrayed the ex-president as a has-been in a POLITICO interview that was published on Friday. Haley said she's disgusted with Trump's behavior on the day of the riot while predicting that he's on the verge of irrelevance politically.