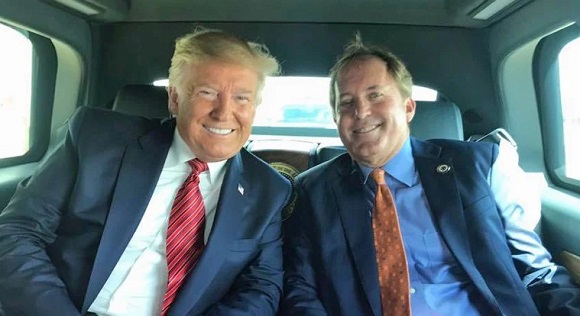 President Donald Trump and Attorney General Ken Paxton pose for camera in car
Texas House Panel Boss Demands Info from Paxton
Who'd Been Ally in Latest Sign of GOP Angst in 2020
By Mike Hailey
Capitol Inside Editor
October 9, 2020
The stampede of Texas Republicans away from President Donald Trump and the far right appeared to be on display on Friday when an endangered GOP lawmaker raised questions on Attorney General Ken Paxton's ability to lead a massive state agency amid allegations of bribery and other criminal offenses.
State Rep. Jeff Leach of Allen expressed his concerns to the embattled AG in a letter that demanded detailed information on what Paxton was doing "to ensure that the effective operations of the agency continue in full force and effect, without delay, without interference and without interruption" while an investigation by law enforcement officials into the accusations unfolds.
Leach told Paxton that he should step down if any the allegations that his top deputies have lodged against him have substance. The high-ranking Paxton aides are contending that the AG abused his power by intervening in a campaign donor's feud with business rivals with the appointment of a special prosecutor to investigate them.
Leach - a longtime Paxton ally who's a fellow Collin County resident - called the attorney general out the day after he released a new television spot that fires in the opposite direction with an attack on Democratic challenger Lorenzo Sanchez of Dallas in a re-election bid in a district that Democrats appear to be on track to win at the polls 25 days from now.
Attempting to capitalize on Trump's war against left-wing anarchy, Leach brands Sanchez as an "extreme anti-police zealot" who he says has been declared "unfit for office" as a result of a statement that reportedly referred to law enforcement authorities as terrorists. While Leach and his supporters had been attributing the remark directly to the candidate who's targeting in the general election on November 3, the lawmaker's new ad clarifies that the comment came from someone other than Sanchez himself.
Leach's has substantial cause for alarm about his own re-election prospects in one of the House races high on the fall hit list for Democrats who can take the lower chamber back with a net gain of nine seats on November 3. Sanchez appeared to strengthen his status as the frontrunner in House District 67 when he reported raising almost $693,000 in less than three months this summer when Leach rounded up less than $533,000.
Acting in his role as the chairman of the House Judiciary and Civil Jurisprudence Committee, Leach gave Paxton a deadline seven days from now to provide the information that he's seeking on the stability of the state agency that he leads with more than 4,000 employees with 38 divisions and 117 offices across the state.
"Certainly you, like all Texans, are entitled to a presumption of innocence until an investigation is completed and a judicial determination is rendered," Leach informed the attorney general. "That said, at this time Texans have good reason to be concerned that the important work of the agency may not be possible under your continued leadership. If there is any truth whatsoever to the factual and legal claims of your own senior staff, I believe you must voluntarily resign your position and urge you to do so. Bottom line: The operations of this vital agency must continue without interruption and the trust of the people of Texas in their Chief Law Enforcement Officer must be restored."
Paxton had been viewed as a mentor for Leach and several other Republicans who won seats in the Dallas-Fort Worth area in 2012 when the current AG was elected to the Texas Senate after 10 years across the rotunda. The attorney general's wife - rookie Republican State Senator Angela Paxton of McKinney - currently represents the district where her husband served one term before winning the statewide post in 2014.
Leach had come to Angela Paxton's defense two years ago when she'd been under attack from the hard right in the primary election in her first race for elected office. Leach had been one of the House's most conservative Republicans for several years as a charter Texas Freedom Caucus member before resigning from the group in a move that paid off when House Speaker Dennis Bonnen named him to his first committee chairmanship in a move that capped off his conversion to the party establishment.