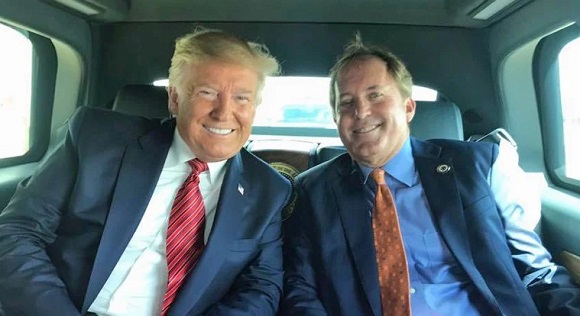 President Donald Trump and Attorney General Ken Paxton pose for camera in car
Paxton Woes Feature Secret Romance Twist
with State Senate Spouse as Scandal Victim
By Mike Hailey
Capitol Inside Editor
October 9, 2020
The serious criminal allegations that Texas Attorney General Ken Paxton is facing could be tied to some degree to an episode of infidelity involving a woman who's been employed by one of his wife's colleagues in Legislature's upper chamber.
Paxton - a conservative Republican who's been accused of bribery and other crimes by his top assistants - had apologized in the past few months to some of the same senior staff members who've turned against him for personal indiscretions of which GOP State Senator Angela Paxton of McKinney apparently is aware.
Paxton's former top assistant and six other high-ranking officials have accused the AG of appointing a special prosecutor to investigate a campaign donor's enemies in the business world. The contributor in question is Nate Paul - an Austin developer who's contributed in the past two years to U.S. Senator John Cornyn and several other statewide GOP leaders including Lieutenant Governor Dan Patrick.
Travis County District Attorney Margaret Moore revealed on Friday that Paxton had attempted to solicit her office's help in the probe into Paul's rivals with a formal request for an investigation at the local level.
Moore fired off a letter to the attorney general today that sought to repudiate his assertion that he'd initiated the probe after Moore had referred the case to the agency that he leads. Moore said she'd simply forwarded Paul's complaint to the AG's office after determining that the DA's office was not the appropriate venue for such an inquiry that she'd never initiated.
While Paxton has been under indictment for state securities fraud for the past five years, the latest tribulations in the legal arena are far more serious than the 2015 allegations that featured a former Texas House Republican colleague as a chief accuser. But the new Paxton saga has been compounded by gossip about the affair that hasn't been substantiated beyond the confession and apology to the aides who are attempting to destroy his career now.
The name of the apparent mistress will become public at some point amid speculation on a possible link to Paul. But Capitol Inside has chosen not to identify the woman at the center of the sideshow drama as someone who hasn't been accused of any criminal wrongdoing up to now.
But the romantic relationship is common knowledge inside the state Capitol beltway in Austin where the state lawyer's spouse will be dragged into the story even though she's simply been an apparent victim of the adultery that her husband acknowledged privately to people he thought he could trust. None of the deputy attorneys general who've provided evidence to law enforcement authorities to support their claims have apparently mentioned the ostensible affair in a public fashion.
The sidebar drama is all the more scandalous in light of Paxton's reputation as a staunch Christian who's attended the megachurch Prestonwood Baptist in the suburbs north of Dallas where his wife is in her first term in the same Senate district that her husband represented before a promotion to AG in 2014.
Paxton and Patrick have been regarded as the two most conservative statewide leaders in the state since winning their current terms six years ago before successful re-election races in 2018. Paul donated $25,000 to Paxton in 2018 when he also gave Patrick $10,000 two years ago when he contributed $5,000 to Comptroller Glenn Hegar, $2,500 to Land Commissioner George P. Bush and $1,000 apiece to Agriculture Commissioner Sid Miller and Texas Railroad Commissioner Christi Craddick.
U.S. Rep. Michael McCaul of Austin and Cornyn both received $2,800 from Paul last year - the maximum amount from individual contributors in federal races.