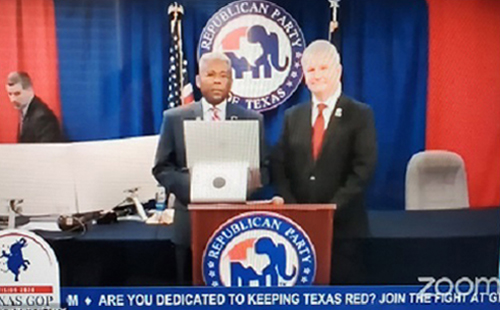 New Texas GOP Chairman Allen West and deposed party boss James Dickey and activists who met in large groups at the Houston Marriott Marquis Hotel last week for pre-convention business were exempt from statewide mask and social distancing orders thanks to a special exception from Governor Greg Abbott.
West's Controversial Top Donor Won't Be Witness
to Next Convention after Dying Right Before First
By Mike Hailey
Capitol Inside Editor
July 24, 2020
Texas GOP Chairman Allen West performed his first major task as the new party leader on Friday when he delegated the heavy lifting on the resuscitation of the state Republican convention to a longtime grassoots activist from the Dallas-Fort Worth area.
But the number one contributor to West's campaign won't be able to watch the new state party leader in action at a second convention because he died several days before the initial event got under way on the Internet last week.
A former one-term congressional member from Florida, West raised an unprecedented sum of money for a state party chair race with contributions of more than $627,000 for a campaign that began less than a year ago. West ended up spending almost $533,000 on the bid for the party post - about 10 times the amount that the incumbent James Dickey had for his re-election race.
While the lion's share of West's contributors gave small amounts, Ohio resident Arnold Barnett came through in the clutch with a $10,000 donation to West on June 29 after pledging to give that exact amount three weeks earlier. Barnett passed away at the age of 81 on July 10 - the day after the city of Houston cancelled the GOP's plans for an in-person convention there at a time when the area was being ravaged by the coronavirus.
West's connection to Barnett is intriguing at the least. Barnett had been a highly-controversial chairman of the Cincinnati Metropolitan Housing Authority before being forced off the board in 2010 in the midst of a federal investigation into discriminatory practices that he'd touted and flaunted.
West's top donor had been reprimanded by fellow housing authority members the previous year for conduct that they deemed to be "offensive, intolerable and contrary to the mission of the agency" after using an ethnic slur to describe a Jewish colleague. Barnett also had been accused of civil rights violations after attempting to use his position to get revenge on a lawyer who'd represented people who'd received cold shoulders from the housing agency in requests for assistance. Barnett's family chose to leave his stormy tenure as a housing commissioner out of his obituary this month.
So if West is bowing to pressure with the plan to reactivate a state convention that really isn't necessary, it isn't coming directly from his leading contributor.
The Republicans' initial attempt at a virtual convention without any advance planning ended on Monday in a technical meltdown with West's election to the partisan leadership post as the last act of business. West reminded the party faithful in an email today that the state party platform and rules had been suspended in limbo without final votes at the chat room convention last weekend. The newly-christened state chair said a Reconvening Convention must be held to complete those items of unfinished business.
But the truth is that the state party doesn't really have to have a new platform or rules that have been officially updated every two years. The Republicans here arguably face more critical challenges like trying to keep Texas red in an election year when the Democrats' odds of taking the state back seem to go up every day.
A state convention resurrection that activists at the first event approved would give delegates on the hard right a chance to resume their attacks on Governor Greg Abbott for taking actions during the coronavirus that have been designed to protect the health and safety of Texans. A convention reboot would provide another stage for anti-Abbott activists who feel like they were cheated out of the power they get to wield for a week every two years with the collapse of the initial event online.
West's supporters have been pushing all along behind the scenes for the cancellation of the in-person convention that they thought James Dickey had to have for a re-election race as the incumbent state chair who the new party chief ousted from the leadership post earlier this week. Democratic Houston Mayor Sylvester Turner instructed the city to tear up the contract that the GOP had for an in-person gathering at the George R. Brown Convention Center when the party refused to do so it itself despite pleas from doctors to shut down the downtown confab plans.
West appears destined to persevere with the plan to stage another convention with the appointment of Deon Starnes of Denton to lead a 10-member committee that will face a massive challenge in the planning and execution of a second event. Starnes is a State Republican Executive Committee member who'd had West speak in the past to students who she home schools.
West acknowledged that he'd been selected to chair the second convention organizational committee before revealing today that he's "declining this position as I want to allow the committee to do its work independently."