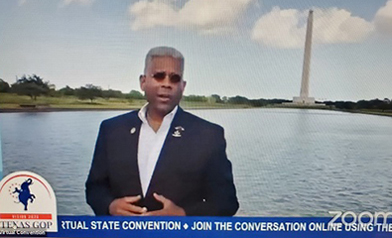 New State Chair Warns of Communist Takeover
Amid Visions of Hammers and Sickles at Capitol
By Mike Hailey
Capitol Inside Editor
July 22, 2020
The Texas GOP's newly elected leader made his first official fundraising pitch on Tuesday night in an email that waxed poetically about the party's plans to save the state from an army of socialist insurgents who are on their way here now.
But Texas Republican Chairman Allen West had put his imagination and flair for the dramatic on display in a campaign speech this past weekend at the virtual state party convention when he suggested that communists had covered the Capitol with self-promotional graffiti.
"Now is a critical time in Texas, it's a line in the sand moment," West said in a video for delegates. "When I think about an organization called Red Guard Austin, a communist group, is going around spray painting, hammers and sickles all over our capitol…Austin, Texas here is our call to arms…do not be discouraged, do not be dismayed."
While the lion's share of people who live in Austin wouldn't have a clue what that is all about, West is quickly demonstrating that he will be a flashier and more charismatic state party chief than James Dickey had been as more of a nuts-and-bolts administrator at the helm for three years.
While West could be in a no-win situation with President Donald Trump sinking fast and deeply in the polls, the new state Republican Party boss isn't going to fall for a lack of breathless hyperbole or visions of victories on battlefields.
"Throughout this year, the party has made great strides in uniting against the Socialist machine coming for Texas, and we are only getting started!," West declared in his inaugural fundraising note. "I will make sure that Texas is the hill the Democrat's dreams and ambitions die on, but I can not do it without your help."
A retired Army officer who retained his rank of lieutenant colonel when he joined the National Guard last year, West gives the state party a George Patton mentality with a focus on a much bigger enemy than the Democrats in Texas could ever be.
The new chair's rhetoric could lead the party faithful to believe that the United States will begin the transition to communism if the Democrats are successful in November in the quest to take Texas back with a state House majority as an overriding goal. West appears to be clearly in sync with activists at the virtual state GOP convention who warned about Marxist revolutionaries in the Texas streets if the party fails to prevail at the polls this fall.
With Democrats in position to reclaim a majority in the west wing in November with a net gain of nine seats or more, West probably will need a more effective strategy than one he used for a losing race for a second term in a congressional district on the southeast coast of the Sunshine State.
"The Democrats have underestimated patriotic Texans like you and me," West told prospective contributors. "They have underestimated our fighting spirit, our love for our state and our country, and they have underestimated our ability to come together to defend our Constitution."
West ended the solicitation with a quote that's been frequently recycled with no apparent agreement on who might have been the source.
"The devil whispers to the warrior slyly can it withstand the coming storm. The warrior responds, 'I am the storm.
"We are the storm."