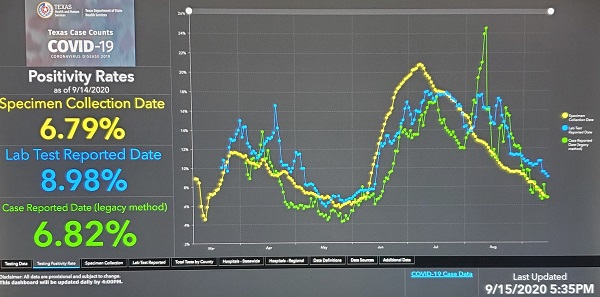 Abbott Accelerated Reopening as Positivity Rate
Was Starting to Skyrocket in Spring and Summer
By Mike Hailey
Capitol Inside Editor
September 16, 2020
The coronavirus testing positivity rate had been going up for a week when Governor Greg Abbott announced the third phase of the Texas reopening in early June - according to the state's new method for calculating the metric that's supposed to be the guiding gauge for decisions like that.
The Department of State Health Services revealed on Tuesday that it had dramatically underestimated the positivity rate from April to August - meaning that the disease had been spreading much faster than the agency had led the public to believe before Texas erupted into the leading epicenter during the second surge.
The data that the DSHS revised this afternoon shows that the Texas positivity rate had been on the decline for two months until it hit a low point of 5.81 percent on May 25 in the countdown to the Memorial Day weekend. Abbott launched Phase 3 without the typical advance warning on June 3. The governor said the fast-track approach had been warranted by a testing positivity rate that had dipped below 5 percent - the consensus standard for safe reopenings.
After creeping up throughout the next two weeks, the Texas positivity rate skyrocketed from 6.9 percent on June 8 to 20.8 percent on July 7 - eight points above the percentage that the state had reported using the technique that it's rendered obsolete for the time being. But the new numbers indicate that the positivity rate in Texas has been falling ever since.
The antiquated measuring stick made it appear that the positivity rate spiked over the course of a week during the first half of August - soaring all the way to 24.5 percent on August 11 in a development that caused concerns about the safe reopenings of Texas schools including colleges and universities that were just coming back to life for the fall.
The state had been basing the count on a so-called legacy method tied to the dates that cases are reported. The switch to a specimen collection date system appears to have destroyed the credibility of the previous tactic.
The methodology that the state has shelved showed another illusional spike from 10.81 percent on August 18 to 16.24 percent on August 22 when the now-official rate shows that there was no increase during that time after all.
The DSHS new process pegged the positivity rate at 6.82 percent on Tuesday. Johns Hopkins University showed Texas on Wednesday morning with a positivity rate of 8.3 percent based on a rolling seven-day average. The pandemic analysts at Covid Act Now had Texas this morning with a positivity rate of 7.9 percent.