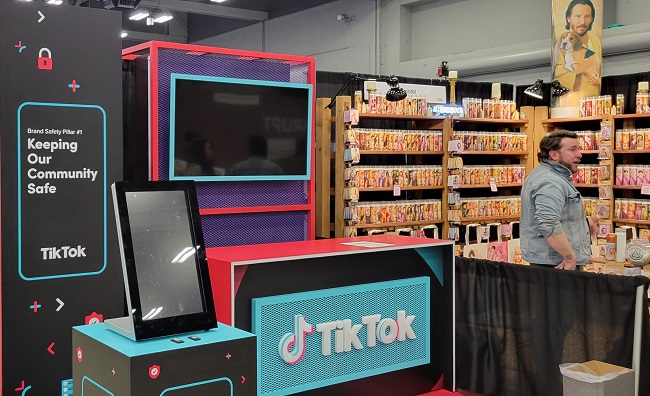 TikTok previews campaign for safe communities at SXSW Creative Industries Exhibition at Austin Convention Center March 1.
Gov. Greg Abbott has banned TikTok at state agencies and universities amid fears on right on Chinese espionage.
SXSW Films Could Give Texas Lawmakers
Insight on Hottest Issues at Capitol in 2023
Capitol Inside
March 15, 2023
The South by Southwest film festival has been a smorgasbord for subjects that Texas GOP lawmakers are confronting this year from human smuggling to gender identity to climate change and pornography. SXSW offers ample opportunity for education and enlightenment for Republicans on issues that they hold dear and claim to have expertise.
The only prerequiste for participation in an SXSW audience is an open mind, an interest in expanding it and an appreciation for independent movie making. Republicans could get the benefit of different points of views from artists and characters with actual experience in the topics that they want to restrict and to regulate.
But the Legislature is meeting this week as the nation's third largest film festival unfolds just blocks away. Here's a sample of the highly topical fare for those who want to make the most of their Austin experience. .
Hail Mary would be a can't-miss movie for any state legislators on either side of the aisle if they chose to partake in SXSW. The film is set in Nuevo Laredo and other parts of northern Mexico. The heroine is a pregnant Latina who walked there from Belize and is desperate to have her baby in the United States.
Directed by Rosemary Rodriguez, Hail Mary has it all for Texas leaders who are serious about the border - complete with ruthless drug cartels, illegal crossing schemes, abortion and Jesus. But there's more. The movie is set against the backdrop of a global pandemic that's compelled the U.S. to halt all migrant admissions. There's a monster from hell and a salvation angel. The two strongest characters by far in the film are the females who are played by actors Angela Sarafyan and Natalia del Riego.
National Anthem should be required viewing for the holiest Republicans who are leading the fight to ban drag shows, gender change and transgender athletes in both high school and college sports. National Anthem is a coming of age film that takes place in New Mexico where a 21-year-old construction worker discovers a LGBTQ rodeo ensemble with gay men and transgender women. National Anthem has won rave reviews from SXSW audiences and critics alike.
The Wrath of Becky is a sequel to the 2020 horror thriller known simply Becky. Lulu Wilson is cast again as Becky. Hell hath no fury like a 16-year-old scorned is the teaser on the ads for her comeback. But the film's most intriguing element for GOP lawmakers beyond the bloodshed is the fact that Becky goes to war with neo-Nazis in a group of fascists who are known as the Noblemen. That makes the female teenage protagonist in The Wrath of Becky a member of the mythical organization that Donald Trump taught the Republicans here to fear. Becky is anti-fascist. That makes her Antifa by default.
Another Body is another SXSW presentation that Governor Greg Abbott and his GOP allies at the Texas Capitol would find to be highly timely as the winner on Tuesday night of the Special Jury Award for Innovation in Storytelling. The Republicans have rallied behind legislation that would cleanse the public schools and libraries of pornography. Another Body centers on the concept of deepfaking porn - a process that's similar to photoshopping in ways that make it appear that celebrities and other people who've been targeted are performing in X-rated videos online. The SXSW web site story on the jury awards last night sums it up.
"Another Body is a powerful film that is timely, unsettling, and innovative in its storytelling. The use of deep fake technology is on the rise, and directors Sophie Compton and Reuben Hamlyn cleverly and thoughtfully employ it — by deep faking the subjects of the film to protect their identities — to simultaneously convey what it's capable of as well as its dangers. This creative and powerful technique underscores the film's message, and will leave you feeling shock and awe."
more to come ...