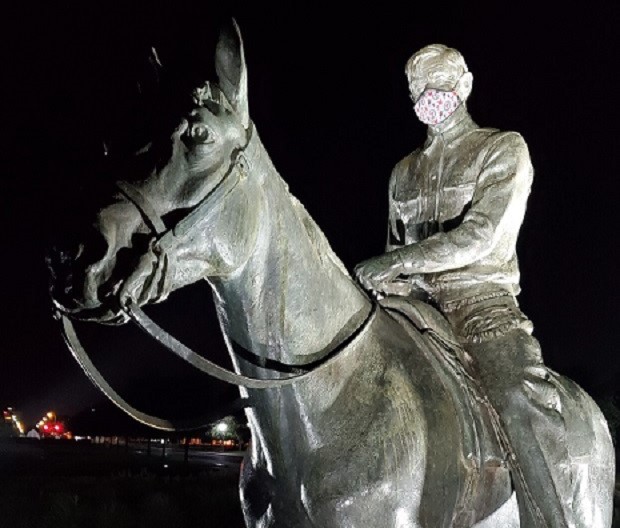 Texas Tech University had a second masked rider statue in August before the student invasion with Will Rogers on his horse Soapsuds.
Lubbock Could Be Number One in Nation
in Positivity as College Town Rates Soar
By Mike Hailey
Capitol Inside Editor
September 8, 2020
The Houston Baptist University Huskies are heading to Lubbock on Saturday to do battle with the Texas Tech Red Raiders in the football season opener with the home team favored by 39.5 points in Las Vegas.
After losing by 26 points to the University of North Texas on the road this past weekend, the Huskies have to find a way to overcome the monstrous spread in West Texas if they hope to have their first winning season in eight years with a football team. Louisiana Tech after all is the only other opponent on a 2020 Houston Baptist schedule that shrunk dramatically when the Southland Conference voted last month to postpone fall sports.
But the Baptists from the Bayou City could be much less concerned about a blowout of epic proportions on the gridiron with the coronavirus testing positivity rate rocketing above 88 percent in Lubbock County on Tuesday. This puts TTU is rarefied air in a county that could conceivably have the highest percentage of positive tests in the nation as the first college football season in the COVID-19 era gets fully under way four days from now.
Arguably the most telling of several key metrics that gauge the state of the pandemic from place to place, the statewide positivity rate in Texas has drifted down to somewhere between 7.2 percent and 7.6 percent with a corresponding increase in testing in the past two weeks. But only a handful of Texas counties - Fort Bend, Williamson, Smith, Gregg and Guadalupe - have positivity rates today that fall below the 5 percent mark that locations need to achieve before schools can safely reopen based on expert recommendations.
Eighteen Texas counties have percentages of positives that are between 5 percent and 10 percent - the threshold that Governor Greg Abbott has used to determine the timetable for lockdowns and reopenings. Abbott shut down the bars in Texas while putting the reopening on hold more than two months ago after the positivity rate crept over 10 percent in June.
Fifteen counties here had positivity rates of more than 10 percent on Tuesday. But three of the four Texas counties with the highest percentage of positive tests - Lubbock, McLennan and Brazos - are home bases for colleges that are fielding football teams this year in Texas Tech, Baylor and Texas A&M.
A group of a half-dozen Texas locations with positivity rates above 20 percent includes Webb County that's anchored by the border town of Laredo along with Randall and Potter counties where the Amarillo area is based.
On the bright side, however, 33 of the 40 Texas counties with populations over 100,000 have lower positivity rates today than they did on Labor Day. Tom Green, Hays, Galveston, Jefferson, Rockwall and Parker counties had positivity rates on Tuesday between 5,3 percent and 5.9 percent - putting them close to the safe schools mark. Dallas and Hidalgo counties haven't reported a sufficient amount of data for the calculation of testing positivity in those major destinations.
Texas as a whole has improved its standing in the coronavirus rankings considerably in the past week. The Lone Star State that had been the epicenter of the second surge this summer now ranks 18th in the number of new cases per capita and 21st in testing positivity after leading the nation three weeks ago in that critical category.
Texas is 10th today in the percentage of intensive care beds that are taken here by covid patients. But Covid Act Now shows six Texas counties at 100 percent ICU capacity on Tuesday including Webb, Brazoria, Guadalupe and Johnson.
Guadalupe County on the eastern edge of the San Antonio area has the lowest rate of positive tests at 0.5 percent today. New York City has a positivity rate of 0.8 percent as a result of a first-rate testing program compared to the mediocre Texas effort.
Harris, Bexar and El Paso counties all have positivity rates between 10 percent and 11 percent while Travis and Tarrant are doing reasonably well at 6.0 percent and 7.7 percent respectively.
Cameron, Midland, Bell and Montgomery counties - in contrast - have rates in the high-risk category between 20 percent and 10 percent.
The ridiculously high rate of positive tests in Lubbock could be a function of a backlog of cases that can throw the numbers off when dumped into the running count. Everyone there will be hoping that's the case when the Raiders host the Huskies in a stadium on campus that will be one-fourth full at most.