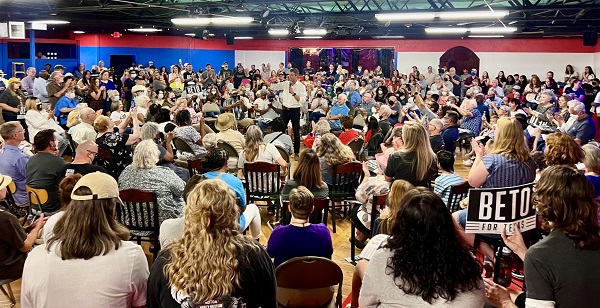 @BetoORourke
packs REO Starplex skating rink in Longview in Twitter photo July 29 in bid for Texas governor.
Beltway Abuzz with Bonnen Hiring
Conjecture in Abbott Tweet Wake
Capitol Inside
July 29, 2022
Governor Greg Abbott set off a wave of predictable speculation at the statehouse in Austin on Thursday night when he capped off a tweet about a town hall with a massive turnout at an undisclosed location with a photograph that showed Dennis Bonnen doing paperwork with him at a table with no one else in sight.
Is Abbott on the verge of enlisting the former Texas House speaker for his staff at the state Capitol, the final three months of a re-election campaign or both? That's the question that's sizzling now as a spinoff of the curious pairing with Bonnen in the Twitter post that Abbott crafted as an expression of gratitude to the legions of backers who participated in the town hall that was actually conducted on the Internet.
"Thank you to the thousands of Texans who joined me tonight for a town hall!" the Republican governor exclaimed. "Your top concern: securing our border & keeping Texas a beacon of freedom & opportunity.
Working together, we will secure the future of our state."
Democratic gubernatorial challenger Beto O'Rourke got off a subtle jab at Abbott on Friday with a tweet of his own on Friday that featured a photo with him surrounded by hundreds of people at the local skating rink in Longview. O'Rourke has played to packed crowds so far this week in Texarkana, Pittsburg and Clarksville with plans to do the same at stops in Lufkin and Palestine set for Friday afternoon and evening.
"This is what a town hall looks like," O'Rourke tweeted today with the photo from Longview.
With the governor's town hall taking place online as a virtual meeting, the Abbott campaign didn't have an expansive shot from a wide-angle lens to showcase the crowd like the pictures that O'Rourke posts every day from different rural towns and cities as part of a Drive for Texas tour. But Abbott no longer appears at events that are open to the public like the O'Rourke campaign stops as he stumps in rural areas that have been solid red in the past.
Apparently still rattled from a nightmarish experience in January when he was loudly booed at a Donald Trump rally in Conroe, Abbott only appears in person with selective individuals and groups, choosing to rely instead on his record for almost eight years, nonstop attacks on President Joe Biden and daily tweets on the border mission Operation Lone Star with promotional graphics and the words rearranged.
But Abbott has been staggering since the sixth mass shooting on his watch as the governor for almost eight years - having been knocked off a script to which he religiously adhered for months with an attack that claimed 21 lives at an elementary school in Uvalde. The response at the scene of the latest massacre proved to be one of the most cowardly displays of police behavior in history. Abbott has seen no reason - however - to take action against or publicly criticize 91 Department of Public Safety officers who were among nearly 400 law enforcement officials who refused to risk their lives to try to save kids from a lone teenage gunman at Robb Elementary in Uvalde.
Abbott's campaign message on border security has grown stale amid perceptions that he's kicking a dead horse with constant complaints about the Democratic president. O'Rourke has slashed Abbott's lead in half in polling since the Uvalde massacre - and the Democrat raised almost $3 million more than the incumbent in the past four months.
Abbott has successfully picked a fight with Washington D.C. Mayor Muriel Bowser by busing more than 5,100 migrants to the nation's Capital City as a publicity gimmick that's been the Texas leader's only recent move with any sort of novelty. Abbott appears to see the burdens that he's imposed on D.C. as a sign that Texas is securing the border and keeping its citizens safe. But the free rides for migrants on air-conditioned buses is yesterday's news as far as the impact the scheme is having among the Texas electorate now.
The community of Uvalde is pressing the governor to call a special session to raise the legal age for gun purchases to 21. The Texas GOP and the far right are pushing Abbott to declare that Texas is being invaded from Mexico. Nothing seems to be going right for Abbott at the worst possible time.
These are some of the reasons why Abbott could turn to Bonnen as someone who would have the ability to come in and shake up a campaign that can't get its traction back as a consequence of the Uvalde rampage and the state's embarrassing antics that it spurred.
Bonnen would bring a toughness to the campaign that it doesn't have with a governor who appears to afraid to face the people who he leads. Bonnen has a penchant for controversy - having blown up his first re-election bid for the gavel with a reckless GOP colleague targeting scheme that conservative activist Michael Quinn Sullivan exposed in a sting.
Bonnen hardly had the Midas touch when he intervened in a Democratic primary runoff this spring in El Paso on behalf of State Rep. Art Fierro, who lost to State Rep. Claudia Ordaz Perez when she scored more than 65 percent of the vote in round two. But Bonnen was second to none in the Legislature as an effective tactician who could play hardball with the best.
more to come ...