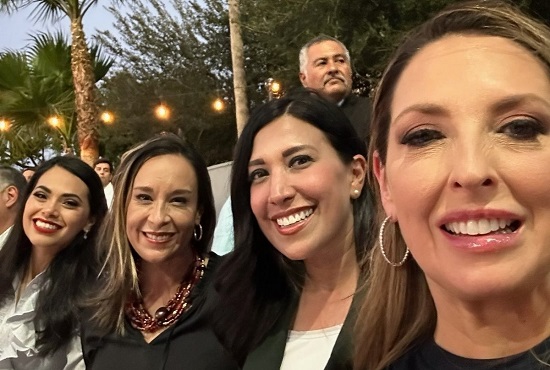 @GOPChairwoman Twitter photo shows Mayra Flores, Monica De La Cruz, Cassy Garcia & Ronna McDaniel

Monica De La Cruz: Texas General
Election Most Valuable Player 2022
Capitol Inside
November 9, 2022
Republican National Committee Chairwoman Ronna McDaniel posted a selfie photo on Twitter during the weekend that showed her with a trio of Texas Latinas who she dubbed "The Triple Threat" in their roles as congressional candidates in targeted races on the Texas border.
Two of the GOP nominees in the picture - U.S. Rep. Mayra Flores of Los Indios and Cassy Garcia of Laredo - failed to live up to the massive hype and sky high expectations that the Republicans from Austin to Washington D.C. harbored on the border triad's winnability as the key cogs in Governor Greg Abbott's plan to turn South Texas red. Democratic U.S. Rep. Henry Cuellar of Laredo defeated Garcia with almost 57 percent of the vote in Congressional District 26 in the general election on Tuesday. Democratic U.S. Rep. Vicente Gonzalez of McAllen gave Flores the boot in Congressional District 34 just four months after she'd claimed the seat in a special election that he didn't enter.
But one of out of three isn't bad on a battlefield where none of the Hispanic females would have won if it wasn't for Governor Abbott and GOP lawmakers in Austin where they drew CD 15 so a Republican could be successful there in 2022. While Donald Trump won the new version of the district by 2 points in 2020, there would be no guarantees for Monica De La Cruz of Edinburg nonetheless in light of the fact that Democrat Beto O'Rourke carried CD 15 in a U.S. Senate bid in 2018.
De La Cruz didn't inherit a U.S. House district on a silver platter like former Texas Senate Republican Pete Flores had with a district that Lieutenant Governor Dan Patrick had drawn exclusively for him around the southern edge of the San Antonio area in a way that gave Democrats no real chance. De La Cruz got a lucky break when Gonzalez decided to give up the CD 15 seat and run for re-election in CD 34 where President Joe Biden beat Trump by a double-digit margin. De La Cruz's odds would have been lower against Gonzalez - the incumbent Democrat who defeated her by 3 points in CD 15 in 2020.
But De La Cruz faced a highly viable fall foe in Mission Democrat Michelle Vallejo - and the Republican would have to actually go out and win the race if she really wanted to serve. De La Cruz did so in style at the polls on Tuesday when she scored more than 53 percent of the vote and made history as the first Hispanic woman and Republican of any gender to be elected as the representative in CD 15. De La Cruz raised more than $4.2 million for the comeback campaign in 2022 when she eliminated eight opponents in the GOP primary election with nearly 57 percent of the vote. Vallejo had less than twice the amount that De La Cruz rounded up for the fight this year.
De La Cruz had Trump for her most valuable supporter in round one before his stock started to slip substantially in recent months. De La Cruz appeared to have learned from the experience of losing just two years before - and she managed to quietly distance herself from the ever-radioactive ex-president after riding his endorsement to the initial winner's circle. De La Cruz was asked in a CBS interview on Wednesday if she thinks Trump should run for the White House again in 2024. De La Cruz dodged the question in artful fashion - stressing her commitment to fighting for border security, the economy and health care. The Republican candidates who lost major races across the country tended to be those on the far right who'd been Biden truther and deniers. De La Cruz was savvy enough to keep arm's length like she did as a no-show at a Trump rally in Robstown in October for the Texas candidates he'd endorsed.
De La Cruz took a few pages from the Republican governor as well - sticking religiously to a programmed message that she articulated with eloquence and emotion with a standard line on how she'd graduated from someone who ironed clothes for a living to someone on the doorstep of Congress. Abbott - for the record - skipped the Trump event in Texas two weeks before the election as well.
Republican Janie Lopez of San Benito was the only other candidate for the award for best campaign in an open race in Texas in the general election this week. Lopez captured the House District 37 seat for the GOP in an open race with 51 percent of Tuesday's vote in a move that was just as if not more impressive due to the fact that she had fewer Republican voters to court despite an infusion the new map.
But De La Cruz is the MVP because she actually had to overcome two foes this fall to win - the Democratic rival and herself. De La Cruz found herself entangled in a traumatic personal drama that centered on allegations by an estranged husband of emotional and verbal abuse with the candidate's treatment of his stepdaughter. De La Cruz confronted the self-inflicted wounds without trying to ignore them like the governor is often prone to do with his own. The ugly soap opera would have been fatal to any lesser candidate. The blessing in disguse that the family clashes brought about for the eventual winner in CD 15 was the inspiration for her to drop the second last name that she had when she ran for Congress two years as a Monica De La Cruz-Hernandez. That would be a great name if it wasn't way too long and multidimensional for a candidate.
De La Cruz owes the Republicans in the Legislature a massive debt of gratitude for creating a district that's anchored in her home base of Hidalgo County while stretching to the outer extremities of the San Antonio area where she went on to win the counties that have the highest populations of white voters while losing in the most heavily Hispanic locations in CD 15. De La Cruz garnered 43 percent of the vote in Hidalgo County in the RGV - as an example - while claiming 77 percent in Wilson County and 70 percent in Guadalupe County.
The Capitol Inside Best of the Texas Elections series is being rolled out in installments as they come to pass.